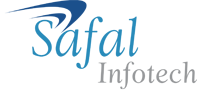 Safal Infotech is a technology focused & professionally driven IT service company. Our team has more than 10 years experience and are adaptable in the changing technology era. Our Expertise believes in customer satisfaction, quality and commitment. Safal Infotech was founded in 2007 and now is part of Aurobiz Solutions Group headquartered in London UK.
Aurobiz Solutions is a small group of companies engaged in Information Technology operating in India, UK, USA and France. Our business is helping yours. Our focus is making a genuine impact on our clients and their customers through innovative digital services, business solutions and design-led experiences, delivered through the power of people and a technological ecosystem.
Our solutions come from a combination of insight, innovation, and deep knowledge of Microsoft technologies. We offer a powerful blend of skills – backed by tools, methodologies, and best practices – that reduce the cost and risk of deployments.
We are committed to helping you build business value. This is what we have done for many clients worldwide. We have the expertise and proven solutions to help you reduce costs, boost productivity, and enhance collaboration so you can increase your business agility and improve customer loyalty.
Delivery choices, proven processes and tested tools
We provide a consistent experience for each client by providing our consultants with a common set of tools and training. We can deliver the proven solutions you need, in the cloud, as a managed service or on your premises. We'll help you make the most of your budget and resources.
Technology leadership
A passion for technology is at the core of our company. More importantly, we understand how technology impacts people and processes. So we can bring that insight to your organization.
Real-world expertise
Our people have a remarkable mix of skills, business acumen, industry experience, and program management skills to fashion solutions that enhance your competitive edge. Working together with you, we will deliver the business solutions you need to realize results.
Vision and Values
Since our inception, our vision and values have guided our growth and our work with customers.

Our vision is to be the leading digital innovator, realizing results for our clients and their customers through the power of people and the technological ecosystem.

Our core values guide our work: - We change things for the better
- We believe everyone counts
- We innovate with passion and purpose
- We deliver with excellence
- We act with integrity and respect