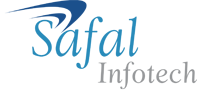 The truth of present times is that technology dominates every industry in the market. Therefore, it becomes the utmost priority of every enterprise to make the best use of the technology to sustain the high-end competition in the market. Enterprise solution is a key to business growth that helps to integrate business processes and ensures the adequate flow of optimum knowledge and information within the organization. Hence, it provides flawless performance in a hierarchy based organizations.
The key features of enterprise solution are:
Executing the processes of business in the embedded industry, collaborative technologies and leveraging of the vertical practice that assists in connecting with different business solutions.
Offering alternatives to extend business solutions on hosted and shared models that positively influences the cloud computing technology.
Authorizing unification with mobile apps, including smart phones, PDA's, etc.
Safal Infotechs' Enterprise Solutions are such designed that helps our customers take their business to new heights. Our solutions help you enhance your operational efficiency and grow your clientele and also contribute to the growth of customer's involvement and advancing workflow within the organization. We contribute by increasing your decision-making power by optimizing the processes of your business and offers value to your enterprise by providing foolproof IT solutions.
Safal Infotech is a new generation Information technology firm that helps the organizations to enhance their business capabilities and assist them in fetching increased number of opportunities. Obviously, our enterprise solutions help the firms cope with the market changes and still come through with flying colors and step into a next stage of advancement.
The key to every business success is to keep up with the pace of the rapidly changing market. It requires a company to make changes in their business models according to the needs of the changing conditions. We understand that the success of the enterprise depends upon the way an industry reacts to a situation and by employing improved business models that are integrated with nature.
We are the leaders in iPhone and iPad development, Android App development, Windows Phone development, PHP development, ASP.NET development and CMS development. We also have a skilled team having an extensive experience in the development of Responsive web design, Logo design and Mobile App design with an experience of more than a decade. Our enterprise solutions have a far-sighted approach to understanding the existing and changing trends in the world of Information Technology so that we can offer flawless services to our valued customers.