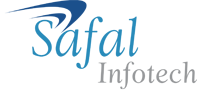 Hire Mobile App Developer
Safal Infotech is one of the Pioneer Mobile Application Development Company that started making iOS, Android, Windows and Phonegap apps. We have always provided best in class service in mobile app development outsourcing services till date. When you prefer Avid, you are partnering with most cost-effective team that has been designing and developing feature-rich mobile apps for years.
Safal Infotech appoints the most intelligent, skilful and tech-savvy mobile apps developers. Our developers have in-depth knowledge of major platforms or frameworks used for mobile app development. With a team of over 25 dedicated developers, designers, and creative engineers, we can offer on-demand capacity to help you meet challenges, tight deadlines and promises to the marketplace.
Being a mobile application development company, we are specialist in development of enterprise, e-commerce, educational and utility mobile apps. Our mobile app developers have experience of developing critical, data and performance intensive apps using cloud web services like AWS (Amazon Web Services), iCloud, Rackspace, Azure, Dropbox, Amazon S3, and Content Delivery Networks etc.
Our Mobile Application developers include:
iPhone & iPad Developers
Android Developers
Windows Developers
Phonegap Developers
We at Safal Infotech supply full spectrum Mobile Application Development that includes the entire Mobile Application development cycle from initial design and architecture, testing to development and deployment.
Advantages of Hiring Mobile apps Developers from Safal Infotech
Dedication towards Projects
Task Monitoring and Customer Reporting (daily/weekly/monthly basis)
Standard Development Method using latest development technologies
Higher standard of coding tactics
Plus, Responsible and Dependable Developers
Quick and instant communications
Developers show Daily & weekly working reports
Reporting as per your need and method
Disciplined timely delivery of projects by our Mobile apps developers and team hired to our clients
Affordable Rates and various Cost-Saving Packages
24x7x365 support, troubleshooting and help
Code rights and reselling locked for customers
Why choose Safal Infotech?
We have a team of iOS, Android, and Windows 7 based App developers available for your projects.
We have a team of experienced developers with each developer having minimum 2 years of work experience in the domain of mobile apps development.
Proficient in working with Xcode 4.4 with base SDK iOS 6.0, Objective C & SQLite as database, expert handling of network communication with any central server, and working knowledge of Appcelerator Titanium.
Our developers are fluent in English communication, and have great team skills
Our Commitment
We will give you Qualified and Highly Expert Employees
We will give you flexibility to make decisions
You will get your work with good Quality without any compromising
Working at inexpensive rates
We assure for your satisfaction
Hiring our skilled iPhone developers, gives you access to services which include smart and innovative solutions for:
Internet and multimedia application.
Game Application Development.
Recreation and entertainment apps.
Business, Social Media and Networking Applications.
Web services and solutions for Mobile Apps.
Apps for book publishing, Bluetooth, GPS, 3G and Wi-Fi.
Software Development for mobile.
Highlights of our engagement model are as follows:
Specify Hiring Term - hourly, weekly or monthly
Working hours per week: 40 hours (8 Hrs./Day, 5 days a week)
Billing on weekly/monthly basis.
Daily reporting over project management tool & email as per your needs.
Dedicated Manager will attend teleconference calls as per the schedule decided
Timely communication through e-mail, and your preferred instant messenger
All the rights of the source code and IPR will always belong to you. Dedicated manager and technical lead for regular support and feedback.
If you have numerous requirements for Mobile Application Development, you can hire Mobile Application Developer with us who will work dedicatedly on your various Mobile application development projects. We have a pool of experienced & skilled professionals who can work full time for your project.