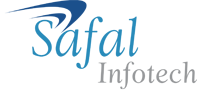 At Safal Infotech, we appoint only the cream of talent and the most experienced professionals ASP.NET Developer for our projects. The world has become a small place with the initiation of the Internet Uprising.
We provide this advantage to prospective clients with the choice of hiring a dedicated team of Asp.Net Developer, who will work absolutely for your asp.net projects from our office in India. We have extensive infrastructure to meet your requirements, in terms of both hardware and software, and technical support. You can hire ASP.NET developers, Programmers at Safal Infotech and get high-quality service @ Inexpensive rates.
Safal Infotech can provide you with quality .Net Solution for your Online Store or Website from, ASP.NET Development. We have team of dedicated Asp.Net Developers | Asp.Net Programmers who have developed more than 100+ ASP.NET web Development | .NET Application Development for numerous businesses. You are assured of quality and reliable services at reduced costs in a completely protected environment. Avail of our services at the following nominal rates, which are provided to give you a basic indication of our low costs. Be assured of excellent services at these rates.
Benefits of Hiring Asp .Net programmer at Safal Infotech
Lower turnaround time (understanding your requirements, finalizing processes, creating prototype, application development, testing and final launch)
100% dedicated resource
Daily Reports through PMS
Prompt response to any of your query, suggestions
Flexibility to hire ASP .NET programmer on FTE, Hourly basis
Experience ASP.Net Programmer
VB.Net Programmers
AJAX Programming
.NET Framework 3.5 Developers
ASP.NET Framework 3.5 Programmers
Outsource .NET 3.5 Development
Offshore software Product Development
Hire ASP .NET Programmers as FTE
24*7*365 support, troubleshooting and help
Allocation of resources as per requirement
Flexible and cost effective business model
Process and privacy oriented working models
Transparent working procedures and timely deliveries
Our Asp.Net Developers have expertise in:
Bespoke Application Development
Custom ASP.NET Desktop Application Development
SharePoint Development
Legacy Applications Migration to .NET
Dot Net Framework Development
ASP.Net Developer skills:
ASP.NET
ASP.NET MVC
C#
VB.NET
.NET Framework 1.1, 2.0, 3.x, 4.0
MS SQL Server
MSAccess
JavaScript / jQuery
ASMX/ WCF Services
XML
XSL and XSLT
We have various contract plans to suit your needs. You can hire dedicated ASP.NET Developer | Programmers from us for three months, six months, or one year with assurance of prompt and timely communication. Moreover, billing will be on a convenient monthly basis. All rights to the source code will be owned by you. We have no objection whatsoever if you resell your application to a third party