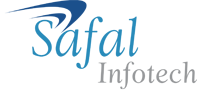 If you are starting a new business and make your business identity online than you must require a logo design for your business website. Logo is symbol of your business or company which represents your business or company identity. It contains name, letters or any graphic design.A well-crafted logo makes the brand/business identity. Your logo design is most important element of your new business because people can easily recognize your brand and business services/products with your effective logo. You can choose the effective logo design of your business from us and get the advantage of the logo design. There are several benefits of the logo design which are mentioned below.
Logo design adds credibility of your business
Logo design makes your business service/product and brand memorable
Logo design makes your business unique and trustworthy
Safal Infotech is the leading web designing company which specialized in logo design. Our good logo designer's team which designs the unique, modern and effective logo for your business that express the vision of your business and serves your purpose successfully. We offer Logo design service at unbeatable price.