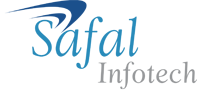 Perplexed! Why your Mobile App Design is not getting the desired appreciation? Mobile always been a fascinating element for the users, but a very few of these applications become popular among the users as flaws in the design of the app becomes the topmost reason for its failure.
We, at Safal Infotech, know it well that in today's world of smartphones, utility and functionality of a mobile become essential. That is why, the need for an app that is high in performance with high-end features becomes the core of its success in the market. We offer flawless mobile app designs according to the needs of our customers. At Safal Infotech, you are bestowed with a design that ensures success.
Why Safal Infotech is a right place to get a design for your Mobile App?
We focus on end user experience and stress on a design that is user-friendly and can be used optimally even by a novice.
Our programmers are well-trained who make use of all the inflexible standards reasons, so that the safety of the app is not breached.
We make it sure that our apps get tested by our professional testing developers to avoid any flaws in its development. Our experts do not only focus on the testing of the front panel, but also cover the testing of the processes working as the app's backbone. From its features, functionality, loading speed, navigation to payment gateways, each aspect is carefully analyzed.
It is important to maintain a balance between the requirements of the users and the objectives of the clients. Undoubtedly, it is a challenging deal, and even the veteran mobile app developers may find it difficult. We, at safal Infotech, focus on developing an app from the perspective of a user so that it does not get lost in the clump. This way, we maintain a balance between client and user requirements to get a zippy response.
Just contact us for your queries regarding mobile app design to get the best deal and see the magical increase on your sales.