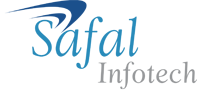 Wow! Great service– very quickly done and very polished work! Excellent customer service. Fixed everything. Good job.

- Steve

I've been working with Safal Infotech for over 6 months, the experience has been refreshing. Ajay has been very prompt with friendly and rapid communication. I have been able to get in touch with Safal Infotech by email and Skype.

- Jack Ovis

I have been using Safal Infotech over a period of two years until now and I am very satisfied with results. The guys at Safal Infotech worked with enough previous costumers to know about their work quality and commitment.

- Devid

Safal Infotech means value for money. Helpful and always on time – that's what makes this company different. I can honestly recommend Safal Infotech to anyone looking for affordable quality work.

- Mahesh Shah

I am so much thankfully appreciating the work, quality and commitment of the team @ safal infotech. They have not only provided the business solution but also deliver the quality output. Their understanding of your business and implement it at real world scenario is excellent.

- Abhishek Soni

Safal Infotech has been great service provider! Their team is very co-operative, hardworking, and talking with the team is pretty easy as they have a pretty good grasp on technical side.

- Neil.