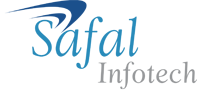 At Safal Infotech we design websites and customize it to develop it as per the requirement of the client. We understand the fact that every business has his way of presenting service, products, concepts and ideas to his prospective clients. So when we develop the website, we start with the initial effort to understand and assess our client's specific need, requirement, preference and approach. With our proven 'Client Interaction Process' once when we understand what exactly our client demands from us, then only we start with the web design process.Creating websites with cutting edge technology and the latest designs is our speciality. Web design is more than just a combination of right fonts, colors, lines, shapes, textures, imagery and navigation.The perfect website is like a beautiful harmony. We ensure that all aspects of it must work together to achieve highest level of quality. Our web design team creates the site to look apart from all competitors, but it will also design a website that will create magic on visitors.Safal Infotech provide different types of Website design services which are mentioned below:
Static and dynamic Web Design
Flash Web Design
E-commerce Website Design
Database driven website design
Custom Website Designing
PSD to WordPress
PSD to Joomla
PSD to Magento
Our Web Site Design development process.
We understand customer's requirements & business.
We try our best to get all kind of inputs.
We have a set of questionnaire for the client to get input on the basic requirements.
Based on the input we start design the website keeping in mind the target audience, market and overall uses of the site.
Before finalising the design we develop few designs for our clients.
Once the design is approved, we further tune it and make it search engine friendly.
Finally we upload it on trial basis & for rectifying errors.
Once it starts working perfectly, we make it visible globally.